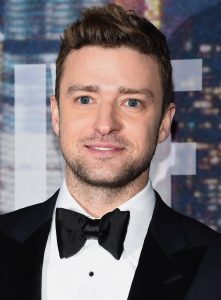 Hollywood singer and actor Justin Timberlake first appeared in the shows Star Search and The All-New Mickey Mouse Club. In the late 1990s, he rose to fame as a member of the boy band NSYNC. In the 2000s, he pursued a solo career, releasing his first album Justified. It spawned the hit songs "Cry Me a River" and "Rock Your Body". His second album, FutureSex/LoveSounds, was critically praised with the hit singles "SexyBack", "My Love", and "What Goes Around… Comes Around". In the late 2000s, he shifted his focus on his film career.
During this period, he starred in the films Alpha Dog, Black Snake Moan, Southland Tales, The Love Guru, and The Social Network. In the 2010s, he had co-lead roles in the films Bad Teacher, Friends with Benefits, In Time, and Runner Runner, among others. His latest role on the big screen was in Woody Allen's 2017 feature Wonder Wheel. This year, he released his fifth studio album Man of the Woods, coinciding his concert tour Man of the Woods Tour. The album generated the hit songs "Filthy" and "Say Something". It also reached Number 1 on the US Billboard 200.
It is obvious that the 37-year-old actor works out. While being a performer makes it automatic for him to perform cardio, Justin does more than just dancing. He has packed muscles and his physique has become ripped when compared to his body when he was younger. To find out what his workout routine is, what better way to know than through his wife Jessica Biel.
According to the actress, she and her husband perform workouts together. "I actually love mommy-daddy workouts, they're the best. It doesn't always happen, but it's so nice to have a partner when you're doing a workout. It's something my husband and I really enjoy doing together—we both are workout enthusiasts. When we can, we make it happen," she said.
So, what exactly do they do? She revealed: "We'll work with a trainer and just do different circuits and do different types of cardio training or sprinting, just different things depending on what we're working on and goals we're trying to hit at the time."