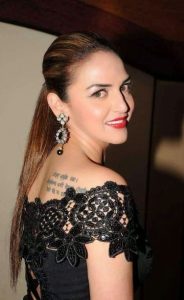 Bollywood actress Esha Deol started her acting career in the early 2000s. Her debut was in Koi Mere Dil Se Poochhe. For her role here, she won the Filmfare for Best Male Debut. She had a prolific career after that, starring in the movies Na Tum Jaano Na Hum, Kyaa Dil Ne Kahaa, and Chura Liyaa Hai Tumne. She was then acclaimed for her performance in LOC Kargil. Afterwards, she made her Tamil debut in Aayutha Ezhuthu. The rest of the 2000s saw her star in a variety of films, many of which are box office hits. This includes Main Aisa Hi Hoon, Dus, and Shaadi No. 1, among others. Her most recent work in the movies was in the Kannada film Care of Footpath 2 and in the Telugu feature Maanja.
The Indian actress maintains her slender figure and toned physique by living a healthy lifestyle. Not only does she eat healthy, she also works out regularly. The actress shared in an interview how she began reinventing herself as preparation for her role in Dhoom. She said: "So I geared up and got a new regime for my workout. When I started out, I had lots of time on my hands as I had taken a break and wasn't signing any films, so for seven months, I worked out for one-and-a-half to two hours at the gym, every day. I'd do cardio (treadmill, cycling, steppers)."
She added: "I managed to get that sexy abs that I never thought was possible. For my washboard-flat stomach, I worked with my trainer (Sherveer Vakil) for one hour daily. I owe my trim–sexy look to buddy Zayed Khan. He pushed me into joining a fitness course and after a year of doing barbell and dumb-bell, I've become a fitness fanatic. I've also realised the importance of eating right and avoiding oily, fatty food." In the present, the actress admits she rarely has time to exercise, but she still does whenever time permits her.