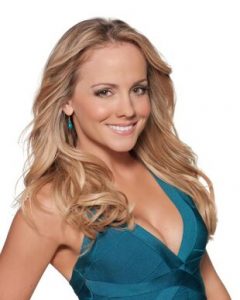 Hollywood star Kelly Stables started her career doing stunts. Her first film gig was in 2002's Spider-Man where she was an extra. That same year, she also had her first speaking role in the TV film BS, as well as in the feature film The Grubbs. She also did stunts for the horror movie The Ring. Stables went on to perform in the movies The Haunted Mansion, Pride & Prejudice: A Latter-Day Comedy, and Bring It On Again.
Later, she played Samara in the horror sequel The Ring Two. Afterward, she appeared in the film State's Evidence and went on to have a voice role in Aliens vs. Predator: Requiem. Between 2004 and 2006, she also voiced Will Vandom in the animated series W.I.T.C.H. Later, she played recurring character Janette in comedy-drama series Greek. She became further known when she appeared as Melissa in the sitcom Two and a Half Men.
During this period, she also performed in a lot of independent films. In the 2010s, Stables gained wider recognition for starring as Eden Konkler in the sitcom The Exes, a role she played between 2011 and 2015. Following this, she played Mary Anne in the short-lived The CW series No Tomorrow. As of 2017, she plays recurring part Kelly in the NBC sitcom Superstore. On the big screen, her latest role was as Rachel in the movie Horrible Bosses 2.
To stay in shape, the actress mostly eats clean, whole foods. Overall, she tries her best to live a healthy lifestyle and eating well is a crucial part of healthy living. As a general rule, she avoids processed foods, at least most of the time she does. The Kelly Stables diet plan usually consists of salads, healthy fats, complex carbs, and lean proteins. She gets these from meat like fish and chicken, whole grains, and brown rice, among others.