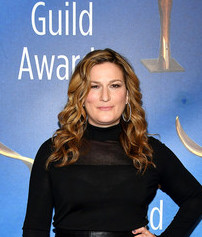 Ana Gasteyer's Hollywood career started in the 1990s, her career spanning three decades. Her first acting job was in an episode of Seinfeld in 1995. After this, she gained mainstream recognition as a main cast member of the sketch comedy series Saturday Night Live from 1996 to 2002. During the '90s, she also had roles in the films A Small Domain, Meet the Deedles, and Dick.
In the 2000s, the actress had performances in several movies, which include Woman on Top, What Women Want, What's the Worst That Could Happen?, Mean Girls, and Reefer Madness: The Musical. She went on to appear in other films like Finn on the Fly, The Women, and Dare. At the same time, she had several one-time guest roles on television. Between 2010 and 2014, she played Judge Patrice Lessner in some episodes of The Good Wife.
She simultaneously starred as Sheila Shay in the TV series Suburgatory. Following this, she played Miss (Susan) Cinoman in The Goldbergs. Gasteyer continued her movie career as well, performing in such feature films as That's My Boy, Fun Size, Geography Club, Peeples, Rapture-Palooza, and Paul Blart: Mall Cop 2. Her most recent works on the big screen were in Wine Country and Happiest Season.
Ana Gasteyer stays fit and healthy with a clean diet plan. While she doesn't necessarily follow a strict eating regimen, she tries to be mindful of her eating habits. Homemade meals are always her go-to healthy foods.
She prefers cooking at home than eating out because she gets to know what she's actually eating, and for her preparing her own food for herself and her family isn't inconvenient.
"I feel, in general, that home cooking is easier than people make it out to be," said the actress. Since she's a certified coffee lover, she always starts her day with a cup. She's also big on organic foods and other products.