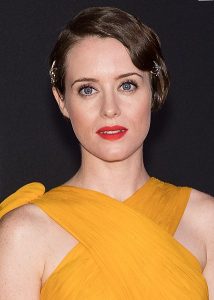 Hollywood and UK star Claire Foy had her career beginnings in 2008, playing Julia Beckett in the pilot episode of Being Human. That same year, she portrayed Amy Dorrit in the miniseries Little Dorrit. She next appeared in 2 episodes of Terry Pratchett's Going Postal, as well as portrayed Lady Persephone Towyn in the drama series Upstairs Downstairs. Later in 2011, Foy ventured into the big-screen, debuting in the film Season of the Witch.
At the same time, she played Erin Matthews in 4 episodes of the TV serial The Promise. She went on to play Charlotte Pew in BBC Two's White Heat, Kate Balfour in NBC's Crossbones, and Anne Boleyn in BBC Two's Wolf Hall. During this period, the actress also had performances in such films as Vampire Academy, Rosewater, and The Lady in the Van. Foy's breakthrough role was her portrayal of Queen Elizabeth II in Netflix's The Crown.
She simultaneously starred in the films Breathe and Unsane. In 2018, she portrayed Janet Armstrong in the biographical drama First Man. That same year, she played Lisbeth Salander in The Girl in the Spider's Web. It was announced that she will portray Emily Richardson-Wain in the upcoming biographical drama Louis Wain. In addition, Foy hosted an episode of Saturday Night Live back in 2018.
Apart from her workout routine, Claire Foy takes care of her body by following a clean diet plan. The actress is mindful of her diet, so she usually avoids processed meals. She nourishes her body with plenty of fruits and veggies, grains, and lean meat. Foy has also struggled with a health issue recently, which only means that she's more cautious of her diet now. Vegetables and fruits like avocado and tomato are some of her healthy go-to foods.