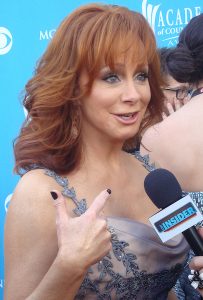 Reba McEntire's career, both as an actress and singer, already spans decades. In 1977, she released her first solo album, which was followed by several more. It was, however, in the 1980s that her prominence grew. It was after the release of the album My Kind of Country in 1984 that established her as a big star. The album had the hit singles "How Blue" and "Somebody Should Leave", which helped her rise to fame.
She continued her musical career during the 1980s and 1990s, producing hit singles and enjoying greater success in the US and abroad. The 1990s also marked her venture into acting with her first role in the movie Tremors. After her debut, she appeared in more films, which include Maverick, North, and The Little Rascals. On television, she starred as Annie Oakley in the miniseries Buffalo Girls.
McEntire starred in her own sitcom, named after her — Reba — during the 2000s. The show was a success, leading it to air on TV for several years with the actress becoming a television staple. She also ventured into voice acting, landing works in such animated films movies Charlotte's Web and The Fox and the Hound 2. The veteran actress went on to star in the feature One Night at McCool's. Finally, in the 2010s, she got the starring role of Reba McKenzie in the sitcom Malibu Country, which aired on ABC.
Apart from a healthy diet, workouts are also a crucial factor to maintain a svelte figure. For Reba McEntire, living a healthy lifestyle is also her way of making sure she ages gracefully.
Her house is already equipped with various sports and exercise equipment so she can play tennis and swim whenever she wants to. She even made herself her own gym with free weights and a treadmill. "I like to go for walks and horseback ride, too. I could ride for hours," the actress added. Plus, the singer-actress also loves doing Pilates.