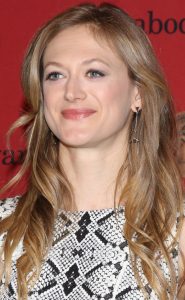 Hollywood actress Marin Ireland began her professional acting career in the theater. Venturing into Hollywood screen, she debuted on television in an episode of Law & Order: Criminal Intent in 2003. The following year, she played a small role in the feature film The Manchurian Candidate. She later had roles in the movies Suburban Girl, The Understudy, Rachel Getting Married, The Loss of a Teardrop Diamond, and If You Could Say It in Words. In 2009, she was cast for a role in the independent film Brief Interviews with Hideous Men.
Later in 2011, she played Letty in the miniseries Mildred Pierce. At the same time, she played Aileen Morgan in 5 episodes of the Showtime series Homeland. She next played Liz Holder in AMC's The Killing. Ireland continued her work on television, playing Christine Rosa in The Divide and Pauline Masters in Masters of Sex. During this period, she also landed several roles on the big screen. She appeared in the films Future Weather, Hope Springs, The Letter, and Take Care.
Her role in the 2014 film Glass Chin got her an Independent Spirit Award nomination for Best Supporting Female. In the next couple of years, she played Sandi Apostolou in the miniseries The Slap, as well as played Logan in HBO's Girls. She came to wider recognition when she played Julia Bowman in Amazon's Sneaky Pete from 2015 to 2019. Around the same time, she had roles in the movies Hell or High Water, In the Radiant City, The Strange Ones, and Piercing, among others. She's set to star in the upcoming film The Empty Man.
Ireland is dedicated to her work as an actress, which is why she nourishes her body with good food. Healthy eating has since helped her maintain her normal weight and improve her strength. Typically, she has lean meat, whole grains, and lots of veggies. She snacks on fruits, nuts, and yogurts, which help her feel full for longer. She also drinks lots of water for hydration and limits her consumption of processed foods.