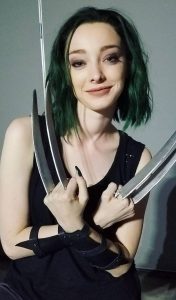 Hollywood celebrity Emma Dumont debuted in the comedy film True Adolescents. Released in 2009, she played the role of Cara in the said movie. That same year, she also appeared in the family comedy feature Dear Lemon Lima. In 2012, she became known on television for her role as Melanie "Mel" Segal in the ABC Family series Bunheads, which aired from 2012 to 2013. At the same time, she appeared in the movie Nobody Walks.
After Bunheads, she starred in the movie Thinspiration. She also joined the cast of the neo-noir film Inherent Vice, as well as guest-starred in an episode of Mind Games and starred in the TV movie Salvation. From 2015 to 2016, she starred as Emma Karn in the short-lived NBC series Aquarius. Afterward, Dumont had a one-episode role in The Fosters and starred in the independent film The Body Tree.
In 2017, she started playing the main role of Zoe Desaul in the web series [email protected], which she still plays up to present. Dumont simultaneously had one-time roles in The Magicians and Pretty Little Liars. More recently, the young actress played the role of Lorna Dane / Polaris in the Fox series The Gifted. The show was canceled after two seasons. Her latest film role was in 2019's What Lies Ahead.
Apart from being an actress, Dumont is also a model and dancer. Hence, it comes naturally for her to take care of her body through a healthy diet plan. In general, she has no problem with binge-eating of junk foods because her body mostly craves clean, whole foods. It's what gives her energy and strength to work long hours. Starting her days right, she typically has a bowl of oatmeal for breakfast. "This morning I had oatmeal with a sprinkle of brown sugar and a big cup of coffee," said Dumont when asked about her go-to first meal.