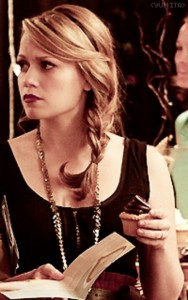 American actress-singer Bethany Joy Lenz is best known for her role as Haley James Scott in the long-running television series One Tree Hill, which ran from 2003 to 2012 for nine seasons. She initially started her acting career in the 1990s when she was around 11 and played her first significant role in the soap opera Guiding Light in 1998 when she was 17. Then came 2003 when she began playing a main role on the aforementioned show, One Tree Hill, a character she has been known of ever since. Her singing was also showcased on the show and even became part of her storyline. After the show ended in 2012, she played a recurring character on the acclaimed show Dexter as Cassie in 2013. In the movies, she's probably best known for her role in Bring It On Again released in 2004. She starred as the lead in the pilot Songbyrd but it was not picked up by its network.
The petite star (she's only 5'3) is already 34 but it seems that she still got her youthful vibe on her. She was just in her early 20s when she rose to stardom courtesy of her role in One Tree Hill and more than a decade has passed and she still looks the same. Surely, it's her genes but let's not ignore the fact that Bethany also takes care of herself pretty much well. Talking about her other goals and ongoing career, the actress-singer also talked about her personal lifestyle.
When it comes to staying in shape, the actress said she doesn't follow any particular shape just as long as she feels healthy. Being a mother of one, it's also crucial for her to follow a healthy lifestyle. Naturally, she enjoys physical activities, which sorts of helps her maintain her toned and slender figure. When it comes to her eating habits, she said she used to like sweets, but it doesn't seem to be the case now. She claims she likes savory foods now.