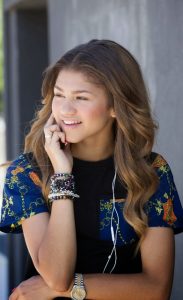 It was in 2010 that American celebrity Zendaya started her Hollywood career. She did so after landing the role of Rocky Blue in the Disney sitcom Shake It Up. She starred on the said TV show from 2010 to 2013. At the same time, she also starred in the made-for-television movie Frenemies. After Shake It Up ended, she competed in the reality series Dancing with the Stars. She also made her big screen debut with a voice role in Super Buddies. She went on to play the lead role in the television series K.C. Undercover in 2015, a role she still plays up to present. This year, she joined the main cast of the superhero movie Spider-Man: Homecoming as MJ Jones. Her most current work as a film actress is The Greatest Showman.
The actress and singer stays in shape by living an active lifestyle. However, she admits that she's not very fond of going to the gym. Some celebrities don't like going to fitness centers because they think they're too stiff and boring. One of these celebrities is Zendaya. She prefers being active by just doing the basic. She loves walking and running and doing outdoor activities rather than going to the gym. Since she's also a performer, she credits her physical activities to lots of dancing.
In an interview, she said: "I don't go to the gym! If we're going to be honest here, I hate the gym. I do not do gyms, it's just so boring. The way I get my exercise is I have to do fight choreo for my show or I dance. I have to do something that's fun for me." Being in her early 20s, Zendaya easily maintains her slender physique through her basic exercises. Because she's always on-the-go, she also considers her busy life as means of working out.