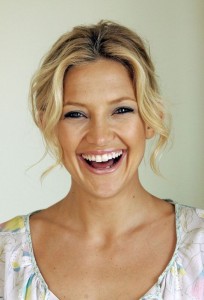 Pretty-faced actress Kate Hudson is easily likable, not just because her eyes sparkle and her smile is contagious, but also because she has a strong screen presence. Her likelihood of entering the acting industry was high being the daughter of actors Goldie Hawn and Bill Hudson. Officially beginning her career in the late 1990s, her breakout role was as Penny Lane in Almost Famous released in 2000. Her performance was widely acclaimed, earning her a Golden Globe for Best Supporting Actress, as well as an Oscar nomination for the same category. She also received mainstream prominence for her roles in romantic comedies, particularly in How to Lose a Guy in 10 Days (2003) and You, Me and Dupree (2006). She has also ventured into the horror genre with her starring role in The Skeleton Key (2005) and showcased her knack for performing with another starring role in the musical film Nine. Her most recent work are on the films The Reluctant Fundamentalist, Wish I Was Here and on the television series Glee.
Because of her thin frame, Kate often becomes the subject of reports speculating that she has an eating disorder, which she's been vehemently denying. Standing at 5'6, people knew Kate as the pretty actress with a very slender figure. She can be sometimes seen as too thin that's why some publications accuse her of having the said disorder. Amazingly, despite being slim, Kate has a lean and a toned body, which she achieves by working out and eating right. She basically avoids processed, fried, and oily foods.
Another important thing about her eating habit is that she imposes a limit on the amount of food she eats. She enjoys eating her favorite foods, but she always keeps her meals light. To keep her full and healthy at the same time, Kate usually has yogurt, which she includes in her meals once to twice a day. She also doesn't believe in crash diet plans or starvation to initiate weight loss. She's more of health-oriented and she believes skipping meals is not healthy. In addition, she practice juice cleansing once to twice a year to flush out all the harmful toxins out of her body.