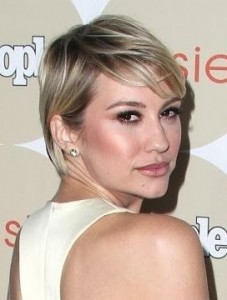 American actress Chelsea Kane initially began her acting journey in her mid teens, making her debut in a movie that was released straight to video in 2003. This was followed by one-episode roles in a couple of television shows. Her first movie released in theaters was 2007's Bratz. She next starred in the Disney TV movie Minutemen in 2008. First regular role on the small screen came the following year with the Disney series Jonas. Simultaneously, she starred in another Disney TV film Starstruck. In 2011, she turned to reality TV when she competed on Dancing with the Stars, where she placed third. She next had a recurring role on One Tree Hill and a regular role on Baby Daddy, the latter of which she plays up to present. In addition, she's also a voice actress who has worked on the Disney animated film Fish Hooks.
The 27-year-old actress stands at 5'6 making her notably sexy thanks to her slender figure. Since starting out in the show business, Chelsea has been naturally thin but her stint on the reality show Dancing with the Stars made her go on binge eating. How? Because it's a dance competition, this means Chelsea has to dance every single day, which of course is also an efficient way of working out. She burns too much calories that she needs to eat more to balance it out.
According to the star, her stay with the show allowed her to eat burgers and doughnuts more frequently, something she couldn't do before because of the main fact that they're filled with fat, calories and sugar. Despite this, she has remained slender throughout the show and her turning to such foods didn't really do any harm to her dance performances and her body in general. After she finished her stint with the program, the actress returned to healthy eating and practicing portion control.