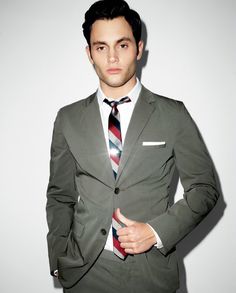 American actor Penn Badgley began his Hollywood career in the late '90s. He got notable roles in the films The Fluffer and Debating Robert Lee. He then starred in the movie John Tucker Must Die in the mid 2000s. Before this, he was already active on the small screen. He had main roles on the short-lived shows The Mountain and The Bedford Diaries. It was however as Dan Humphrey on Gossip Girl that made him a household name. Subsequently, he starred in the films The Stepfather and Easy A. After Gossip Girl, he starred in the movies Parts per Billion and Cymbeline. His most recent work on television was in 2 episodes of The Slap.
Standing at 5'9, the 30-year-old actor has an average yet lean body that gives his stature the needed symmetry. He's not as chiseled-looking as other young actors, but the actor does not really need that kind of appearance. He believes he does not need to look bulky to be fit. But this doesn't mean that he doesn't workout. Because he still does, he only focuses on his strength rather than muscle mass. To maintain his toned body, he works out 7 days per week. This contains of a total body strength workout. This is according to the actor himself.
His workout routine mostly consists of pull ups, hanging leg raises, Bosu ball pushups, hammer curl to press, pushups, lateral raises, dips, V-ups, and triceps extensions. Because of he exercises regularly and eats right, too, the actor has the energy and the endurance to be on-the-go. Aside from acting, he's also venturing into singing and performing now. The more reason for him to be fit. He needs the strength to be able to do the things that he does without getting so exhausted. He also focuses on his cardio exercises.