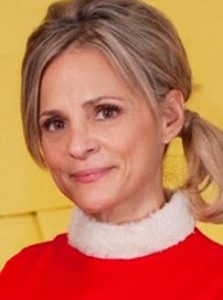 Hollywood actress and comedian Amy Sedaris debuted in the 1991 television film Big Deals. On TV, she made her debut in the sketch comedy Exit 57. Later in 1999, she garnered attention for her role as Jerri Blank in Comedy Central's Strangers with Candy. She later made notable guest appearances in Just Shoot Me!, Sex and the City, Monk, and Ed. Apart from making guest roles on television, Sedaris landed roles in some feature films.
This includes Maid in Manhattan, School of Rock, Elf, My Baby's Daddy, Bewitched, Romance & Cigarettes, and Stay. She also reprised her role as Jerri in the prequel movie Strangers with Candy. She next had performances in Full Grown Men, I Want Someone to Eat Cheese With, Snow Angels, Dedication, Space Buddies, Dance Flick, Jennifer's Body, Tanner Hall, and Old Dogs.
At the beginning of the 2010s, she had recurring roles in Raising Hope and The Good Wife. She next starred as Hershe in The Heart, She Holler and as Louise Laffer in Alpha House. She gained wider recognition in 2014 courtesy of her role as Princess Carolyn in the adult animated series BoJack Horseman. Simultaneously, she played Mimi Kanasis in Unbreakable Kimmy Schmidt. Since 2017, she appears on her own show called At Home with Amy Sedaris.
Amy Sedaris lives a healthy lifestyle and sticking to a clean diet is part of that. In an interview, she shared how she'd tried detoxing. "My friend and I are on a fast. It's more about detox than weight loss. It's this weird thing where you take Chinese herbs," said the actress.
"I never do this stuff, but she's kind of granola-ish and she's like, "Look, you're working on the book, you're really stressed out, why don't you try this with me?" So you take the herbs in the morning, and then you eat all the fruits and vegetables you want all day long."
As for her typical diet plan, she usually has an oatmeal for breakfast. If she's not in the mood for it, she makes juice from "apples, carrots, ginger, lemon, celery, and cucumber". For lunch, it's mostly sandwich with chicken and veggies. For dinner, it's chicken or fish with a sweet potato and steamed green beans.