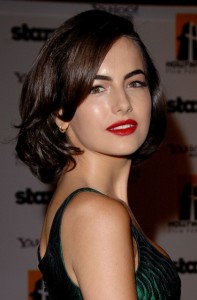 American actress Camilla Belle was only seven when she started acting on the screen, first on television then on the cinema. She continued her career throughout her childhood with notable roles in The Lost World: Jurassic Park in 1997, Practical Magic released in 1998 where she played the younger version of Sandra Bullock's character and The Patriot, also released in 1998. After 1999, she took a long break from show business and only returned in 2005 when she was already 19 to star in the movie The Ballad of Jack and Rose where she played Daniel Day-Lewis' daughter. She starred in many other films during that same period, such as in the thrillers The Quiet and When a Stranger Calls. Further prominence came when she starred in 10,000 BC released in 2008. She continued acting in the 2010s with her most recent work in Cavemen and Diablo, released in 2014 and 2016, respectively.
Standing at 5'7 ½, the 29-year-old actress is most notable for her beautiful face, which can be soothing and mesmerizing at the same time. Over the years of acting, Camilla has also maintained her slim stature, taking care of herself to not only look good but also feel good. Aside from her workout routine, the celebrity is careful when it comes to her eating habits. She loves food but she implements discipline when it comes to her food choices because she believes that she becomes what she eats.
For breakfast, Camilla typically has cereal with rice milk, oranges, and fresh pomegranates with she partners with Earl Grey tea; or she has Irish oatmeal mixed with a banana, dried cherries, coconut flakes, and cinnamon to make her oatmeal tastier. Since she loves to cook, she can make homemade lunch on her own. She loves to make spaghetti squash with garlic, butter, and a bit of olive oil, as well as parsley and lobster. She also likes to make grilled mahimahi and sautéed kale, beans, and a green salad. For dinner, she likes to make fresh pesto. For snack, she likes to have lavash bread with hummus.