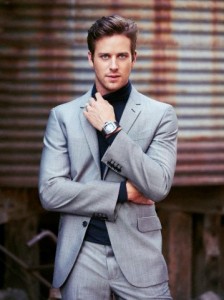 American actor Armie Hammer got his first taste of acting back in mid 2000s, first on television, then on the big screen. He got his first lead role as the titular character in Billy: The Early Years (2008). After a few more acting stint, he got his major break for playing the Winklevoss in the award-winning movie The Social Network (2010). The success of the film made him an instant star. Subsequently, he went on to portray an important character in J. Edgar (2011). Continuing his success as a leading man, he starred in Mirror Mirror (2012) as the handsome prince and the title role in The Lone Ranger (2013). He recently played a starring role in The Man from U.N.C.L.E. (2015).
Standing prominently at 6'5, Armie is someone you can't miss, given his very tall stature. Accompanied by his lean physique, he is a certified hunk with fresh talent and good-looking face. With several well-known films in his credit, Armie has nowhere to go but up. He's the kind of man that practices healthy lifestyle through workouts and healthy eating. Most particularly, he underwent more intense exercises for his role as a KGB agent in The Man from U.N.C.L.E.. With lots of chasing and fight scenes, he needs to be not only look fit, he also needs to be really strong and agile to effectively portray his character.
Working with trainer Jordan Feramisco, it was revealed that Armie is fond of doing fighting and jujitsu. According to his trainer, they basically meet five times in a week for training sessions that would consist of high-intensity and explosive movements with only a little bit of rest time in between reps. Working on his strength, his abs are used more frequently in most of the exercises to help slow down movements. Medicine ball slams and medium weights are also used so he can move the weights rapidly to make sure his muscles are toned. In addition, his fight training certainly helped him a lot to look like a natural when doing his fight scenes in The Man from U.N.C.L.E..