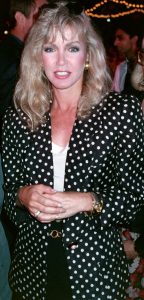 Hollywood actress and producer Donna Mills had her beginnings in the 1960s, debuting in the soap opera The Secret Storm. In 1967, she made her film debut in The Incident. Her first starring role on TV was as Laura Donnelly Elliott in the daytime soap opera Love Is a Many Splendored Thing. In the 1970s, she starred in a few short-lived shows, as well as appeared in the movies Play Misty for Me, Rolling Man, and Curse of the Black Widow, among others.
In the following decade, Mills gained wider recognition for her starring role as Abby Fairgate Cunningham Ewing Sumner in the primetime soap opera Knots Landing. She starred on the said show for nearly a decade. In the 1990s, she had performances in the films Dangerous Intentions and The Stepford Husbands.
She also played Sherry Doucette in Melrose Place. She reprised her role as Abby in the miniseries Knots Landing: Back to the Cul-de-Sac. She went on to perform in the films Jane Doe: Yes, I Remember It Well and Ladies of the House. In the 2010s, Mills played Madeline Reeves in General Hospital. She also had roles in the films Joy and Sharknado: The 4th Awakens.
Over the years, Donna Mills has stayed in shape courtesy of her healthy diet plan. She has a high-protein diet that rarely includes red meat. She's also made it a habit to avoid eating after 6pm. Because she has hypoglycemia, she naturally steers clear of sugary foods. She also avoids drinking alcohol and strengthens her body further through exercise. "Eating right is essential," said the actress. "On Knots, I weighed 104 pounds the whole time. I never ate bread, pasta or desserts — and I never missed a day of work."