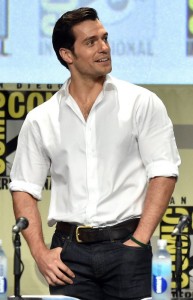 British actor Henry Cavill got her promising start in the movie The Count of Monte Cristo (2002). Around the same time, he also acted on television to further his acting experience. Then, in the mid 2000s, he was able to score main film credits in Hellraiser: Hellworld and Tristan & Isolde. He continued this more notable performances in Red Riding Hood, Stardust, Blood Creek, and Immortals, the last of which exposed him to wider audiences. But his biggest break as an actor would be his role as Clark Kent / Kal-El in Man of Steel, which as a worldwide hit. After a few years of taking a break, he starred as the male lead in The Man from U.N.C.L.E.. He'll reprise his role as Clark Kent in the much-awaited Batman v Superman: Dawn of Justice, to be released in 2016.
If there's one role that Henry was required to do much preparation, it would be the Man of Steel where he played a superhero. Though he's had significant experience as an actor, Man of Steel was his first lead role in a major Hollywood production, and expectations are pretty much high. So, for the coveted character, the British actor had to undergo rigorous training and be more cautious in terms of his diet plan. Working with strength coach Michael Blevins, his regimen focused on performance to guarantee that he becomes much faster.
Now that he's reprising the said role, Henry is continuing the training. Basically, his training regimen consists of four phases: preparation, bulking, leaning out, and maintenance. The bulking phase, probably the most crucial one, primarily involves Olympic weightlifting movements. Through complex and laborious lifts, muscles are built more effectively and strength, as well as speed are enhanced tremendously. In addition, since this is a tough training program for the heart, it also improves endurance.