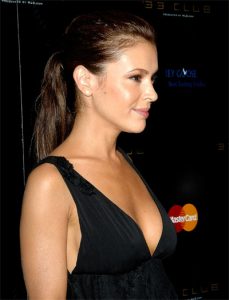 American star Alyssa Milano has been on the acting business for decades, starting with the sitcom Who's the Boss?. Throughout the '90s, she was prolific on the small screen with shows and TV movies. She returned to primetime television with Melrose Place in the late 1990s. Though it was her role as Phoebe on Charmed that cemented her TV superstar status. In the 2010s, she was a regular cast on the ABC series Mistresses. In the movies, she had roles in Hall Pass and New Year's Eve. She also starred and produced the movie My Girlfriend's Boyfriend.
The 44-year-old actress may be in her crucial age, but this is not obvious. Being a mother of two and an actress, she can still take care of herself. She knows that in her age she has to be more careful in what she eats and how she sets her lifestyle. It is true that her body has changed when compared to her physique in the 1990s. But Alyssa was able to manage her weight more efficiently over the years, even after giving birth to her 2 kids. This is because aside from working out, she eats right. Eating right for her means avoiding fried and processed foods.
Most of the time she chooses to eat clean and healthy foods. This way, she keeps her gorgeous figure and feels energetic at the same time. Basically the actress said that a low-carb diet is the only diet that works for her. After giving birth to her second child where she gained 55 pounds, she turned to Atkins diet to lose weight. This involves her eating lean protein. For this, she has fish, chicken and turkey because she doesn't eat red meat. In the morning, she has egg dish with turkey bacon or chicken sausage. Her lunch is mostly protein and veggies. Lastly, dinner is typically a fish with vegetables.