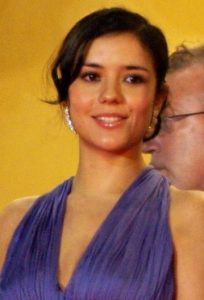 Colombian actress Catalina Sandino Moreno had a memorable acting debut. She played the lead in the 2004 drama film Maria Full of Grace, which found commercial and critical success. For her performance, she won various awards, including the Berlin Film Festival Award for Best Actress, as well as the Independent Spirit Award for Best Actress. She also received an Academy Award nomination for Best Actress.
With her newfound stardom she landed many roles on the big screen, including Journey to the End of the Night, Paris, je t'aime, Fast Food Nation, The Hottest State, and Love in the Time of Cholera. In 2008, she portrayed Aleida March de Guevara in Che Part One: The Argentine and Che Part Two: Guerrilla. In the 2010s, she had performances in the films For Greater Glory: The True Story of Cristiada, Magic Magic, A Stranger in Paradise, Medeas, At the Devil's Door, and Swelter.
Moreno also played a role in 2014's A Most Violent Year. This was followed by roles in the movies Custody and Incarnate. Her latest film role is in 2020's The Quarry. On television, the actress became known for her roles as Alma Ruiz in The Bridge, Isabella in Falling Skies, and Luisa in The Affair. Also, she appeared as Christina Morales in American Gothic.
Catalina Sandino Moreno keeps her weight in check by practicing a healthy diet plan. Exercising is already part of her lifestyle but proper diet is just as important. That's why she's done some necessary changes as far as her food choices are concerned. For instance, she's cut back on sugary and fatty foods. This only entails nothing processed in her meals, for most days at least. Instead, she focuses on having clean, organic foods that are mostly lean meat, veggies, fruits, and whole grains. When snacking, she chooses healthy options as well, which include almonds, Greek yogurt, smoothies, and fruits.