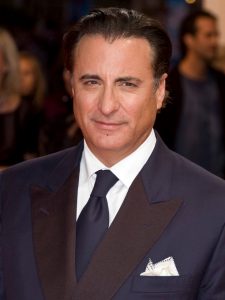 Hollywood actor Andy García had his career beginnings in the 1970s on television. In the 1980s, he had his first movie role in 1983's Blue Skies Again. His first notable role was in the 1987 film The Untouchables. The following decade, the actor gained wider recognition for starring as Raymond Avilla in Internal Affairs, Vincent Mancini in The Godfather III, and Michael Green in When a Man Loves a Woman.
He later starred in the movies Things to Do in Denver When You're Dead, Night Falls on Manhattan, The Disappearance of Garcia Lorca, Desperate Measures, and Hoodlum. In 2000, he played the titular character in the TV movie For Love or Country: The Arturo Sandoval Story. He later starred as Terry Benedict in Ocean's Eleven, Ocean's Twelve, and Ocean's Thirteen.
Other film performances during this period include Modigliani, Smokin' Aces, New York, I Love You, and The Pink Panther 2. In the 2010s, he starred in 5 Days of War, For Greater Glory, Kill the Messenger, and Ghostbusters. He went on to star in the features Geostorm, Book Club, Mamma Mia! Here We Go Again, and The Mule. On television, he played recurring role Andre Allen in the HBO series Ballers. He recently portrayed Ricardo Montalbán in the HBO movie My Dinner with Hervé.
At 63, Andy García is still fit and healthy. He follows a clean diet plan, which is something that's a must for him. He's certainly at the point in his life where he no longer craves anything unhealthy. It's all about listening to what his body needs right now. As for his workout routine, the Ocean's Eleven actor swears by Pilates. "Pilates seems to be essential to keeping a healthy back," the actor said. "Especially if you want to play golf once a week."