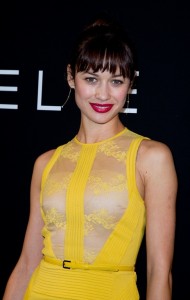 Ukrainian-born French model and actress Olga Kurylenko has a remarkable beauty that has since made her a familiar international star. She worked as a model as she was entering her adolescence and established her name as one. In the mid 2000s, she decided to try acting and so she did in France. Soon after, she garnered attention for her starring role in Hitman (2007). This led her to secure other roles in Hollywood films like Max Payne and Quantum of Solace, both earning her international stardom. In 2013, she played Tom Cruise's love interest in Oblivion and worked with Pierce Brosnan in The November Man the following year.
The 36-year-old beauty is noticeable with her European beauty and curvaceous figure along with her great knack for acting. Standing at 5'9, you'd be surprised that the actress has never engaged into any diet plans ever since, even when she was working as a model. In an interview, she said: "I never exercise and I eat everything". She also revealed that she can eat whatever she wants and not gain weight, which is something other women would die for – eat anything and not put on weight in return. Interestingly, Olga's love of food has something to do with her and her mother having only a little when she was young. Having raised by only her mother, they struggled financially before.
She said: "My mom Marina and I were poor and hungry. We could sometimes not afford to eat – seriously." Their situation changed after she was scouted to become a model when she was 14. Her previous experience with being poor and having almost nothing to eat made her a food lover until now that no dieting or any other food regimen can ever stop her from eating what she wants to eat. Olga's one of the few celebrities in Hollywood who doesn't practice any strict dieting plans.