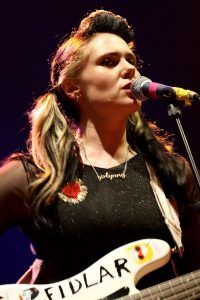 Kate Nash first ventured into music starting with the release of the song "Foundations" in 2007. This was followed by the release of her debut album, Made of Bricks, which reached Number 1 on the UK charts. A few years later in 2010, her second album, My Best Friend Is You, came out.
She independently released her third album, Girl Talk, in 2013 but it wasn't as successful as her previous ones. Her fourth and most recent album, Yesterday Was Forever, came out in 2018. Nash has also pursued acting beginning in the 2010s. She made her film debut appearing as Carol in the 2012 Hollywood film Greetings from Tim Buckley. The following year, she had roles in the movies Syrup and Powder Room.
She then appeared as herself in the documentary The Distortion of Sound. Nash breakthrough role as an actress was as Rhonda "Britannica" Richardson in the Netflix series GLOW, a character she played from 2017 to 2019. At the same time, she also made appearances in the reality show Drop the Mic and a documentary about herself called Kate Nash: Underestimate the Girl. Afterward, she starred in the historical comedy film Horrible Histories: The Movie – Rotten Romans. She most recently appeared in the web series Truth Seekers.
Kate Nash changed her diet and exercised more to prepare for her role in Netflix's GLOW. The series, which chronicles female wrestlers in the 1980s, was one of the reasons the singer-actress worked so hard to change her body and improve her strength. Aside from swearing by a vegan diet, Nash also owes her new, healthy look to her special workout routine, which, of course, also consists of wrestling.
Doing GLOW not only exposed her to a wider audience, it also gave her greater motivation to take physical training seriously. "I learned the importance of physical exercise through GLOW: it's good to do something that makes me feel strong and tires me out mentally as well," said the actress. "Rock climbing is really good. Not only is climbing walls physically taxing, but there's a mental workout there, too: I'm figuring out placement, figuring out how to get to the top… my mind is on fire."