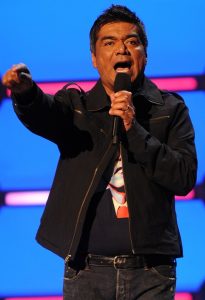 Hollywood actor and comedian George Lopez debuted in the 1990 film Ski Patrol. His next acting job was in 1993's Fatal Instinct. In the 2000s, he had performances in the movies Bread and Roses, Real Women Have Curves, Outta Time, and The Adventures of Sharkboy and Lavagirl, among others. On television, he rose to fame for starring as the lead in the ABC sitcom George Lopez. The show aired on television from 2002 to 2007.
At the same time, he had roles in the films Balls of Fury and Tortilla Heaven. After his program ended, he appeared as himself in 5 episodes of The Naked Brothers Band. He next played the Mayor of Reno in Reno 911!, after which he played Eddie Serrano in the television movie Mr. Troop Mom. During the late 2000s, Lopez also had roles in the movies Swing Vote, Henry Poole Is Here, and Shannon's Rainbow.
From 2009 to 2011, he hosted the show Lopez Tonight. He later headlined the short-lived program Saint George. He continued his work on television as he hosted the show Lopez. Also, the actor had performances in the feature films School Dance, Spare Parts, Meet the Blacks, and Car Dogs. His latest film role was in 2019's El Chicano.
Even actors in Hollywood are swearing by Pilates and its benefits. One of these actors is well-known comedian George Lopez. Nonetheless, he still admits that doing Pilates isn't a piece of cake. "I started doing Pilates a while back," said Lopez. "I thought my childhood was rough? Pilates is harder. When I do Pilates, I think about those sad summers I was making Kool-Aid and trying to sell it on a cul de sac that no one traveled, and Pilates is much harder than that". Apart from doing Pilates, the actor also plays golf to keep himself fit and happy.