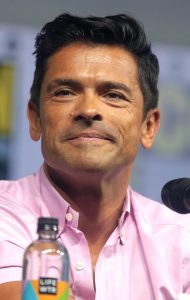 Hollywood actor Mark Consuelos debuted as Mateo Santos in the soap opera All My Children. He starred on the ABC program between 1995 and 2001. He also won Soap Opera Digest Awards for his performance there, as well as got a Daytime Emmy nomination. At the same time, he starred as Alberto Mendoza in the television series Connect With English. In the 2000s, he first made his film debut in 2002's The Last Place on Earth. He later starred as Antonio Cortez in the Canadian crime drama Missing, which aired from 2004 to 2006.
He simultaneously played the role of Gary Gucharez in the sitcom Hope & Faith. Afterward, he hosted the reality series Age of Love. Around the same time, Consuelos also had performances in the films The Great Raid, My Super Ex-Girlfriend, Wedding Daze, and For the Love of Grace. He continued his career in the 2010s, playing Spivey in 5 episodes of American Horror Story: Asylum. Subsequently, he joined the main cast of the TV series Alpha House as Andy Guzman. After it ended, he had recurring roles in Kingdom and Queen of the South, as well as had a starring part in the short-lived series Pitch. In 2017, he began playing the role of Hiram Lodge in Riverdale. He also had roles in the feature films A Walk Among the Tombstones, All We Had, and Nine Lives.
The actor is all about healthy living. Because his family has a history of Type 2 diabetes, he follows a healthy lifestyle and does it diligently. "I am committed to sharing my family's positive approach to managing their diabetes successfully and hope others will be inspired to take the diabetes freedom pledge and commit to a healthier lifestyle." Apart from eating well, he exercises on a regular basis. He also plays sports, engages in outdoor activities, and just stays active as part of his routine.