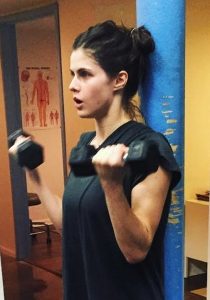 Alexandra Daddario is an American actress who gained mainstream fame for starring in the Percy Jackson film series. She initially started her career on TV with the soap opera All My Children. After getting noticed in Percy Jackson & the Olympians: The Lightning Thief, she had notable roles in a variety of movies, including in Bereavement, Hall Pass, and starred in Texas Chainsaw 3D. She recently starred in Burying the Ex, and starred in San Andreas. She will star in the movie remake of Baywatch. She is also a television star with roles in White Collar, Parenthood, True Detective.
The beautiful actress continues her promising journey in Hollywood. Though her fame came from an adventure film targeted for kids and teens, her latter work in the movies and TV performing adult-oriented roles such as on True Detective significantly gained her attention. Now while she's not your ordinary slim type of girl, Alexandra is oozing with sex appeal courtesy of her vivacious body. Despite this, the actress is confident and proud of how she looks like as she knows health and fitness is not defined as being thin. Speaking of health and fitness, the pretty-faced actress engages in workout sessions and other exercises to stay fit and strong aside from eating clean and healthy.
Despite her hectic schedule, the sought-after star makes it a point to exercise either at home, outdoors, or in the gym. She basically likes running and other outdoor activities like trekking and even playing sports when she has the time. She enjoys having an active lifestyle because she believes it is the ultimate secret to have a long-lasting energy, which is something that she needs to have for her on-the-go lifestyle. Now that she will star in the upcoming movie remake of the TV series Baywatch, we can expect for her to work out a bit harder since she'll be wearing swimsuits all the time, plus lots of running and swimming.