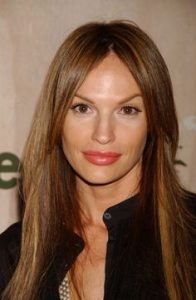 Hollywood star Jolene Blalock had her beginnings in the late '90s. She first debuted in an episode of Veronica's Closet. She later appeared with a small role in Love Boat: The Next Wave.
In 2000, she had her first movie role in Queen for a Day. She went on to have one-time roles on G vs E, D.C., CSI: Crime Scene Investigation, and The Diamond Hunters, among others. At the same time, she starred in the TV movie Jason and the Argonauts.
She gained recognition for her role as Sub-Commander/Commander T'Pol on the TV series Star Trek: Enterprise. She starred on the show from 2001-2005. At the same time, she appeared as Ishta in 2 episodes of Stargate SG-1. Afterward, she had performances in the films Slow Burn, Shadow Puppets, and Starship Troopers 3: Marauder.
She also had one-episode appearances on CSI: Miami, House, and 10 Items or Less. In 2010, she guest-starred in 2 episodes of Legend of the Seeker. Continuing her career in the 2010s, she had roles in the films One Kine Day, Sinners and Saints, and Killing Frisco. Her latest movie role was in the 2014 comedy film Sex Tape.
The actress is already in her 40s. Despite this, she stays youthful and on top shape thanks to her clean diet plan. She doesn't have any diet tricks. What she does is pretty simple — she stays away from processed and junk foods. Instead, she focuses on having clean, whole foods that aren't tainted by chemicals which characterized most processed foods today.
To make sure she always eats clean, she prepares her own food most of the time. Her diet is also mostly plant-based as she incorporates veggies and fruits into her meals every day. She doesn't eat red meat so often and sticks to other sources of protein like fish, chicken, soya, and broccoli.