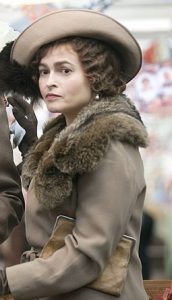 Beginning her career in the '80s, Helena Bonham Carter has since established herself as one of the most well-known stars in Hollywood. She first appeared in the 1983 TV movie A Pattern of Roses. Two years later, she made her cinematic debut in the romance film A Room with a View. In 1986, she played Lady Jane Grey in the movie Lady Jane. In the 1990s, her career flourished — she portrayed Ophelia in Hamlet and Marina Oswald in Fatal Deception: Mrs. Lee Harvey Oswald. She next starred in Woody Allen's Mighty Aphrodite.
For her role as Kate Croy in the 1997 film The Wings of the Dove, she had her first Academy Award nomination for Best Actress. Bonham Carter rose to greater fame for playing Marla Singer in David Fincher's Fight Club. The following decade, she starred in the films Big Fish, Charlie and the Chocolate Factory, Corpse Bride, and Sweeney Todd: The Demon Barber of Fleet Street. She also became known for her playing Bellatrix Lestrange in the Harry Potter films.
In 2010, she portrayed Queen Elizabeth in the film The King's Speech, earning her an Academy Award nomination. Later, she starred in Dark Shadows, Great Expectations, Les Misérables, The Lone Ranger, Cinderella, and Alice Through the Looking Glass. More recently, she starred the ensemble cast of the 2018 film Ocean's 8. This year, she portrayed Princess Margaret in the Netflix series The Crown.
Apart from her workout routine, the actress maintains a healthy body by eating well. She doesn't follow any diets. She eats whatever she wants but in moderation. "I love food. Elizabeth Taylor once said you have to choose between the body and the face at some point and I think she was right," said the actress. "I did diet when I was younger but now I just eat. I don't overeat though. I'm rounder, but I think it does help the face."