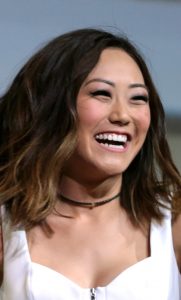 In 2016, Karen Fukuhara gained mainstream recognition for her role as Tatsu Yamashiro / Katana in Suicide Squad. This also marked her Hollywood debut. The success of the film catapulted her to success and opened more doors in Hollywood. She next starred in the film Stray afterward. Continuing her career, she landed the voice role of Alexis in the animated series Craig of the Creek, which she's been starring in since 2016.
She was also the voice of Glimmer in She-Ra and the Princesses of Power. Fukuhara became further known for her role as Kimiko Miyashiro / The Female in the Prime Video original series The Boys. She has been starring on the show since 2019. Currently, the show has just been renewed for a third season. As of 2020, she also plays the voice of Kipo Oak in Kipo and the Age of Wonderbeasts.
For her role in Suicide Squad, Karen Fukuhara underwent rigorous physical training to prepare for her character. This is to enable her to do several fighting scenes and do her own stunts. But such physical preparation isn't all about the workouts. Proper nutrition also played a crucial role to transform her body and increase her strength.
In an interview, she got candid about the type of diet she needed to incorporate into her day to day. For starters, she needed to cut down on carbs and focused on eating proteins instead. "Well, I love food and I love carbs: Pasta, rice—that's my thing. But for the movie, a lot of your physicality comes from not only training but your diet, too," said the actress. "I ate a lot of quinoa, greens, chicken breast. There wasn't a nutritionist, but we did have meals that were specifically made for us."