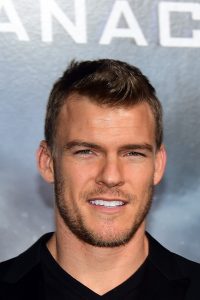 Hollywood actor Alan Ritchson got his start in the mid-2000s. He made his film debut in The Butcher. On television, his first acting gig was as Arthur Curry/Aquaman in 4 episodes of Smallville. He later starred in the made-for-television films Though None Go with Me and Midnight Bayou. At the same time, he had roles in the movies Steam and Fired Up!. In 2010, he came to prominence for his role as Kevin Devlin "Thad" Castle in the Spike series Blue Mountain State.
He later played Gloss in The Hunger Games: Catching Fire and Raphael in Teenage Mutant Ninja Turtles. He reprised his role as Raphael in Teenage Mutant Ninja Turtles: Out of the Shadows. He went on to play Thad Castle again in the comedy film Blue Mountain State: The Rise of Thadland based in the Blue Mountain State series. Recently, he starred in the short-lived series Blood Drive. He will also play Hank Hall/Hawk in the upcoming web series Titans.
The actor has a ripped physique and it has something to do with his genes. Sure, he works out and all but his genes also play a role whether his physical efforts substantially works or not. For his lead role in Blood Drive, we saw the actor being more ripped than ever. Interestingly, what the actor worries about when it comes to his physique is getting too huge. He said: "My genetics lend themselves to size, so if I wanted to get enormous, I could."
He continued: "If I start working out with weights or bench pressing at the gym, I would look like an ogre." So, he just sticks to the basics when it comes to his workouts. This includes "long runs, plus sprints, pushups, dips, pull-ups, sit-ups, and burpees." According to him, this has been his fitness routine since his adolescent days. Aside from working out at the gym, he also makes sure to spend time outdoors being active. "I live in the hills in L.A., so I [run] on Mulholland Drive or the trails in the Santa Monica mountains. It adds something to the runs," he said.