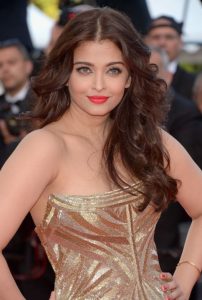 Indian superstar Aishwarya Rai Bachchan was crowned Miss World in 1994. After this she subsequently started a Bollywood career. She has since established herself as one of India's top actresses. She's also gained recognition outside India for her beauty. She's frequently quoted as the "most beautiful woman in the world". She made her first acting role in the Tamil feature Iruvar. Her first Bollywood movie was in Aur Pyaar Ho Gaya. She experienced greater success for her work in Hum Dil De Chuke Sanam and Devdas. Both these films also earned her Best Actress awards at Filmfare. She has also starred in Bengali films, as well as in international productions like the British film Provoked. In the 2010s, she took a break from acting only coming back in 2015 with the movie Jazbaa.
Aishwarya has always been known to her fans as the beautiful, mesmerizing, talented with a remarkable figure actress. Even when she was younger, she has always been careful when it comes to her health. She understands the importance of proper nutrition and fitness in order to achieve not only a slender body, but also a healthy mind. Maintaining a healthy weight also means that your overall well-being is in proper place. She would focus on eating lean proteins, complex carbs and fruits and veggies loaded with antioxidants. As motherhood happened to the actress in 2011, the actress gained weight, which is normal for every woman who just gives birth.
There were even some people who criticized her for not losing the weight she had gained during her pregnancy. The actress confidently responded by saying that she's still savoring motherhood and that she's in no hurry to gain back her actual figure. This is something that also made other mothers realize that there shouldn't be no pressure when it comes to losing weight after pregnancy. Right now of course is a different story because she's back with a slimmer physique. How did she manage to lose all the pounds she had gained while pregnant? boiled By mostly eating vegetables, fresh fruits and juices. Her diet plan basically is fat-free. She also eats brown rice instead of while and she keeps her meal portion small.