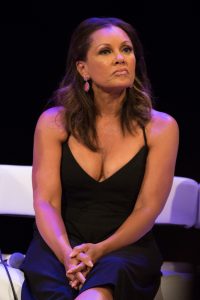 Vanessa Williams won the Miss America title 1984. After resigning as a result of a Penthouse controversy, she instead ventured into a career in singing and acting. In 1988, she released her debut studio album The Right Stuff. The song "Dreamin'" peaked at Number 8 on the Billboard Hot 100. In the 1990s, she released her subsequent albums The Comfort Zone and The Sweetest Days, earning her commercial and critical success.
During this period, Williams got numerous Grammy nominations. The 1992 single "Save the Best for Last" also peaked at Number 1, contributing to her rising fame. In the 2000s, she released the studio albums Everlasting Love and The Real Thing. As a movie actress, she had roles in the films Another You, Harley Davidson and the Marlboro Man, Eraser, Hoodlum, Dance with Me, The Adventures of Elmo in Grouchland, and Light It Up.
Williams also became known for starring as Teri Joseph in 1997's Soul Food. She continued her acting career with performances in the movies A Diva's Christmas Carol, Shaft, Johnson Family Vacation, My Brother, And Then Came Love, and Hannah Montana: The Movie. In addition, the actress also established a prolific career on television. She starred as Wilhelmina Slater in Ugly Betty and Renee Perry in Desperate Housewives. In the 2010s, she starred as Olivia Doran in 666 Park Avenue, Maxine Robinson in Daytime Divas, and Captain Beakman in T.O.T.S.
Apart from staying active, Vanessa Williams keeps in shape by eating clean. "Just eating as clean as you possibly can when you have a goal to attain," said the actress. "If I wanted to drop a few pounds for any kind of event or red carpet, you cut out alcohol, you cut out sugar, you cut out carbs." She also does juicing to keep her hydrated.