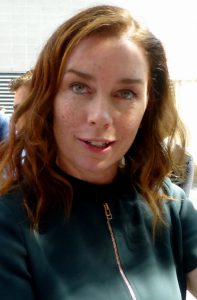 Hollywood star Julianne Nicholson first appeared in the TV series Nothing Sacred back in 1997. The following year, she appeared in several films which include Harvest, Long Time Since, and One True Thing. After this, she starred in the TV miniseries Storm of the Century. Nicholson's career flourished in the 2000s, landing her first starring role on TV — as Marian Kitt in the NBC series The Others.
She next starred as Jenny Shaw in Fox's Ally McBeal. She continued landing starring roles on the small screen, playing Dr. Jules Keating in Presidio Med and Christina Finn in Conviction. During this period, she also worked on the big screen, acting in such films as Tully, Speakeasy, I'm with Lucy, Seeing Other People, Little Black Book, Kinsey, Puccini for Beginners, Two Weeks, Brief Interviews with Hideous Men, and Staten Island.
The actress then came to prominence for starring as Det. Megan Wheeler in Law & Order: Criminal Intent, starring the part between 2006 and 2009. In the 2010s, she played Esther Randolph in HBO's Boardwalk Empire. Her performance as Dr. Lillian DePaul in Showtime's Masters of Sex also earned her a Critics' Choice Television Award nomination. Subsequently, Nicholson starred in the TV shows The Red Road, Eyewitness, Law & Order True Crime, and The Outsider. She also had notable performances in the movies August: Osage County, Black Mass, and I, Tonya.
Julianne Nicholson maintains her healthy body by sticking to a clean diet plan. In an interview, she revealed how a medical condition prompted her to change her diet. "I don't use herbs myself very often or even at all regularly, but I had a sickness that I couldn't get rid of for a long time," said the actress. "And I went to a naturopathic physician in Connecticut and changed my diet — no meat, no dairy. It was very hard, but it worked."