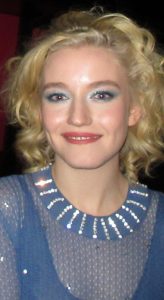 American actress Julia Garner started acting by appearing in short films. In 2011, she made her film debut playing the role of Sarah in the independent film Martha Marcy May Marlene. Shortly after, she landed acting parts in the movies Electrick Children, Not Fade Away, We Are What We Are, and The Last Exorcism Part II. Garner also landed the role of Susan in the film adaptation of The Perks of Being a Wallflower. She went on to star in the films I Believe in Unicorns and Sin City: A Dame to Kill For.
In 2015, Garner made her television debut as Kimberly Breland in The Americans, which she played recurrently from 2015 to 2018. At the same time, she had performances in lots of films. These include Grandma, Good Kids, Tomato Red, One Percent More Humid, and Everything Beautiful Is Far Away. Simultaneously, she appeared in an episode of Girls and played Claudia Gunns in 2 episodes of The Get Down.
The actress gained wider recognition after getting the role of Ruth Langmore in the Netflix series Ozark, a role she still plays since 2017. Also, she starred in the miniseries Waco and Maniac. From 2018 to 2019, she starred as Terra Newell in the short-lived series Dirty John. She recently played Maddy in 2 episodes of the web series Modern Love. Also this year, she received her first Primetime Emmy Award for Outstanding Supporting Actress in a Drama Series for her role in Ozark. Garner starred in the 2019 film The Assistant as well.
Julia Garner gains further prominence recently with her award-winning performance in Ozark. To help herself excel in her work as an actress, it's also crucial for her to take care of herself. This is something she does through a healthy diet and an active lifestyle. In general, the Ozark star isn't into intense workout routine but she likes to run, swim, and attend yoga classes whenever she has free time. She also prefers outdoor exercises or simply spending time with her family or friends while doing something fun.