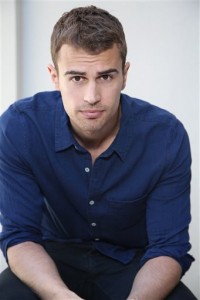 English actor Theo James began his career with the Spanish-American feature You Will Meet a Tall Dark Stranger released in 2010. That same year, he played a notable role in Downton Abbey and soon became recognized for his character in another British series Bedlam. While working on the small screen, he also simultaneously acted on the silver screen with The Inbetweeners Movie and later gained notice for his part in Underworld: Awakening (2012). Since his appearances were getting more mainstream, it wasn't a shock that he would be cast as the male lead in the movie adaptation of the novel Divergent. His role in the film released in 2014 garnered him widespread recognition. He continued playing the said character in The Divergent Series: Insurgent (2015) and in the upcoming sequel The Divergent Series: Allegiant to be released in 2016. He's also recently starred in The Benefactor and London Fields. In 2013, he was the male lead in the short-lived television series Golden Boy.
Divergent actor is now a familiar name courtesy of his portrayal of Four Eaton in the aforementioned film. With other roles in high-rated films, Theo has a full-pledged promising career ahead of him. Because he's now garnered more female fans worldwide, it becomes an interesting subject how the actor maintains his good physique, especially for his role in the Divergent films. Not only does he need to look great in the film, he also needs to be stronger and more agile to execute his action scenes more efficiently.
Like the other casts in the movie, Theo underwent physical training to be more prepared for his role. This includes lots of cardio, light stretching and some training on proper striking. Because the time wasn't enough to teach him with everything, the training was very specific, boiling down to a combination of hammer-fist striking, punch striking, elbow striking, knee work and low kicks, as well as some work on throws and falls. Luckily for Theo, he was one of the few casts who was already in good shape when he joined, so the training was easier for him.