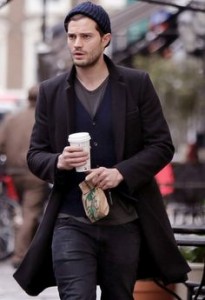 Irish heartthrob Jamie Dornan is now a huge name courtesy of his portrayal of Christian Grey in the 2015 film adaptation of Fifty Shades of Grey. Beginning his career in 2006 with the movie Marie Antoinette, he went on to have roles in a few British films. He was first recognized for his recurring character as Sheriff Graham or The Huntsman on the television series Once Upon a Time in the early 2010s. After his role on the show ended, he started playing Paul Spector in the British series The Fall in 2013. His name then became more known after it was announced that he replaced Charlie Hunnam in playing the role of Christian Grey in the movie adaptation of the best-selling novel. The film was released in 2015 and despite poor reviews, it was a commercial success, garnering him and his co-star Dakota Johnson widespread popularity. He will also star in the upcoming films The 9th Life of Louis Drax and Anthropoid.
With how he showcased his body in Fifty Shades of Grey, people are surely wondering what preparations the actor had taken to be completely ready. Prior to this, he was already known for his lean physique as shown on some of his television characters. Basically, Jamie is the kind of person that finds something to do all the time so this already counts to exercising. But since Fifty Shades of Grey was a huge deal for him, he needed to do something in particular. With this, he was required to bulk up a bit and lose weight by working out at the Iron Fit in Belfast. Training programs there allow people to get in shape more quickly.
Some of the routines that Jamie did were Ring Pushups (5 reps), Bent-Over Rows (10 reps), Power Lunges (20 reps), Core Pike Slideouts (10 reps), and Aussie Pullups (10 reps). Aside from these, Jamie continued doing his favorite activities which are playing golf, skiing and soccer to help him stay in shape. When asked about his training, the actor said: "I take decent enough care of myself… I'm gonna up it slightly with training. But, we don't have any intention to really bulk up." Plus, Jamie has a condition in which his body's adrenaline is at high levels. In order to work this through, he takes advantage of it by doing push-ups and other exercises.