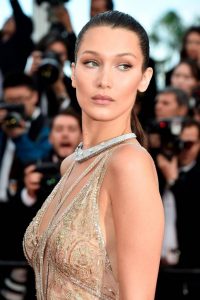 Famous model Bella Hadid started her modeling work at age 16, appearing in a commercial for Flynn Skye. In 2014, her career in the fashion industry took off after being signed to IMG Models. She walked the runway for Desigual, making her debut at the New York Fashion Week in the fall of 2014. The following year, she walked for Tom Ford in Los Angeles and later attended London Fashion Week as well.
During the Milan Fashion Week, she walked for Philipp Plein, Moschino, Missoni, and Bottega Veneta. At Paris Fashion Week she walked for Balmain. She went on to make her Chanel debut in Rome at the end of the year. Since the Hadid has established herself as a staple name in several fashion events in the US and Europe. Apart from her work as a runway model, Hadid is often featured in prominent magazines, such as Harper's Bazaar, GQ, W magazine, and many others.
She's also modeled for Nike. More recently, she was chosen to be the ambassador of Dior Beauty and TAG Heuer. She also collaborates with her sister Gigi Hadid. For instance, they've both been featured in campaigns for Fendi and Moschino. In addition, she's appeared as herself in the reality shows Keeping Up With the Kardashians and Real Housewives of Beverly Hills.
As a model, it comes naturally for Hadid to take care of herself through healthy eating and regular exercise. Still, she admits it's hard for her to be consistent with her fitness regimen considering her crazy schedule, which causes her to forget her workout schedule. "It's hard with my schedule – every time I go somewhere I'm like 'can you send me a pair of Nikes? I forgot my shoes!' I always forget something," said the model. She, however, makes up for any lost time when she gets back home.
"When I'm home I like to train harder than usual. My trainer always calls once he knows I'm in town," said Hadid. Is there any particular workout she prefers doing? She said: "I love doing abs and ass and getting my blood pumping. Running around keeps most of my body in check but I eat really badly when I'm travelling because I can't help myself. It's my comfort."