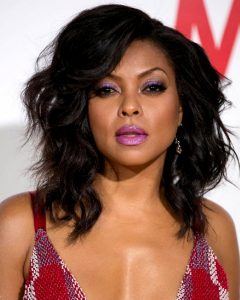 Hollywood star Taraji P. Henson had her career beginnings in the late '90s. She made her acting debut in the TV series Smart Guy. Her first movie appearance was in 1998's Streetwise. She later gained attention for starring in the movie Baby Boy. Following this, she played Inspector Washington in the series The Division. Her next notable role on television was as Whitney Rome in Boston Legal. During this period, she also had roles in the films Hustle & Flow, Smokin' Aces, The Family That Preys, and The Curious Case of Benjamin Button.
In the 2010s, she starred in the movies Think Like a Man and its sequel Think Like a Man Too and No Good Deed. She also became known for playing Detective Jocelyn "Joss" Carter in Person of Interest. In 2016, she gained acclaim for her portrayal of Katherine Johnson in the movie Hidden Figures. This year, she starred in the film Proud Mary and Acrimony. She also appears in her own show Taraji's White Hot Holidays.
The TV and film star stays in shape by eating healthily. She follows a nutritious diet plan while not depriving herself of food at the same time. She said: "I try to do my proteins. When I want a salt taste, I'll do boiled eggs with my fermented vegetables. When I want a sweet taste, I'll grab a Special K protein bar or protein shake. I just want to make healthier choices. I had a health scare and I want to live. My health scare came from me not eating right."
She also talked about her love of sweets and why she doesn't deprive herself of the foods that she loves. "I love chocolate. I love sweets. Every time you pick up a doughnut or chocolate or anything, you feel guilty. But why feel guilty about food? Food should be enjoyed. We shouldn't walk around with such guilt about the nutrition that we need and that our body craves," she said.