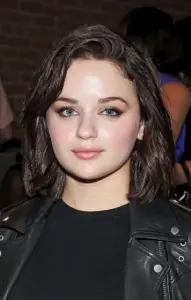 Hollywood star Joey King had her career beginnings at a young age. Initially, she made guest appearances in the shows The Suite Life of Zack & Cody and Jericho. Meanwhile, her first movie was in Reign Over Me. She then had voice roles in the films Horton Hears a Who! and Ice Age: Dawn of the Dinosaurs Beaver. She made her breakthrough after co-starring in the 2010 movie Ramona and Beezus opposite Selena Gomez. She next had supporting roles in the films Battle: Los Angeles, Crazy, Stupid, Love, and Family Weekend.
She later played the young Talia al Ghul in The Dark Knight Rises. She later joined the cast of the films The Conjuring, White House Down, Wish I Was Here, Stonewall, and The Sound and the Fury. She later played Sam in the movie Independence Day: Resurgence. On television, she starred in the short-lived series Bent and played recurring character Greta Grimly in Fargo. This year, she starred in the Netflix film The Kissing Booth.
The former child star has obviously blossomed into the young woman that she is now. Despite her young age, Joey knows that she needs to stay healthy by eating right. At the same time, she also allows herself to have indulgences every now and then. "As far as diet and exercise go, I try to eat as healthfully as possible, but I don't make myself crazy," she said in an interview.
She went on to say: "If I'm craving a piece of bread or a bowl of pasta, sometimes I just need to listen to my body and indulge. You definitely have to find a balance, though, because eating the right things has incredible health and healing benefits. It's not about how you look – it's about taking care of your body so you can be the best you."