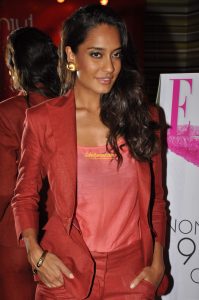 Indian star Lisa Haydon first established herself as a famous model. As she became successful in the modeling world, she was offered film opportunities, which she accepted. By 2010 she had already began her film career making her debut in Aisha. This was followed by the film Rascals and the Telugu feature Racha. Her supporting character in the acclaimed and successful movie Queen gained her wider prominence. For her performance here, she was nominated for the Filmfare Award for Best Supporting Actress. She also gained nominations in the Breakthrough Female category. Her latest work on the big screen were the 2016 films Santa Banta Pvt Ltd, Housefull 3 and Ae Dil Hai Mushkil.
The model-actress takes care of herself through proper nutrition and workout regimen. Being a model, it is important that she maintains her slender and toned figure. Having high energy levels is also crucial in order for her to work as both model and actress at the same time. It is reported that Lisa practices Pilates with the help of her trainer Namrata Purohit. In an interview, Lisa said how Pilates is effective in working out her core. She is also fond of yoga. She said in an interview: "I do Ashtanga yoga for an hour, thrice a week."
Yoga does not only help her maintain her lean and toned figure, it also helps her sustain her mental harmony. She said she practices quantum yoga instead of meditation. She actually starts her day early, already being active. She revealed: "Those hours of the day are so clean and I love the felling of running into sunrise." In addition, she also swims regularly as part of her fitness routine. Being on-the-go sometimes makes it challenging for her to stick to her fitness regimen. So, she always bring her running shoes with her and tries to make up for her lost time by running on a treadmill of the hotel she stays in.