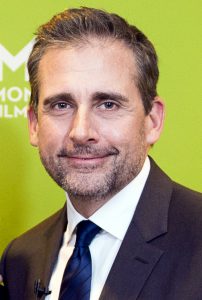 Hollywood actor and comedian Steve Carell debuted in the 1991 film Curly Sue. Later in 1996, he made his first television appearance in the sketch comedy show The Dana Carvey Show where he also served as a writer. He next played the role of Gary in Saturday Night Live. Between 1999 to 2005, he worked as a correspondent for the late-night show The Daily Show with Jon Stewart. At the same time, he starred in the short-lived series Watching Ellie.
In 2003, he played Evan Baxter in Bruce Almighty, as well as starred as Brick Tamland in the film Anchorman: The Legend of Ron Burgundy. His biggest role, however, was as Michael Scott in The Office. He starred on the show from 2005 to 2011. During this period, he also starred in the films Bewitched, The 40-Year-Old Virgin, Little Miss Sunshine, Evan Almighty, Dan in Real Life, and Get Smart. In the 2010s, Carell starred in the movies Crazy, Stupid, Love, Seeking a Friend for the End of the World, Hope Springs, and The Incredible Burt Wonderstone.
He then reprised his role as Brick Tamland in Anchorman 2: The Legend Continues. In 2014, he portrayed John Eleuthère du Pont in the acclaimed film Foxcatcher. He next starred in the films The Big Short, Café Society, Battle of the Sexes, Beautiful Boy, Vice, and Welcome to Marwen. Apart from his work in acting, Carell is also a producer. He created and produced the comedy series Angie Tribeca. As of 2019, he stars as Mitch Kessler in Apple TV+'s The Morning Show.
Steve Carell keeps in top shape by sticking to a healthy lifestyle. He eats clean and follows a workout routine. He also goes through physical training, its intensity depending on the role he's preparing it for. For instance, he found himself getting more active when he trained for his role in Get Smart. "I did four sit-ups to prepare myself for this role," said Carell. "Over two days. I spread it out because I didn't want to be too sore."