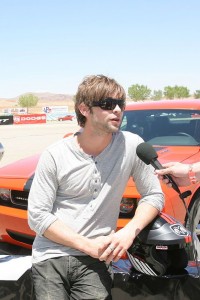 Gossip Girl's golden boy Chace Crawford is easily noticeable with his boy-next-door charm and overall charisma. Starting his acting career in 2006 with a starring role in The Covenant, he instantly achieved his breakthrough the following year for his main role in Gossip Girl. With the show lasting six seasons, Chace became a household name especially among female audiences. During his tenure on the series, he worked on the big screen with cinematic roles in The Haunting of Molly Hartley, Peace, Love & Misunderstanding, and the ensemble movie What to Expect When You're Expecting. He recently returned to television with a starring role in Blood & Oil.
Standing at 6 feet, Chace has definitely got the looks and the right physique. Although he's not huge like other actors, the 30-year-old heartthrob is strong, fit, and healthy, which he makes happen through regular exercises and healthy eating. The actor revealed that he's fond of engaging in various forms of physical activities, whether it's running or hitting the gym, the latter of which he does three to four days in a week. To keep him motivated and invigorated at the same time, he makes sure he has his favorite music to keep him active.
Despite being a well-known young actor accompanied by his busy schedule, Chace makes sure he has time for workouts as such activities are what fuel him to be energetic and strong. Not only is he strong and fit, his body also looks good, which is why he has a large female following. Thus, his workouts are worth his time and physical efforts since the results are amazingly great and beneficial. He hasn't been in any action-oriented film so the actor hasn't been professionally required to gain muscles like his other fellow celebrities, but if ever that opportunity comes, surely Chace would accept that as a challenge.