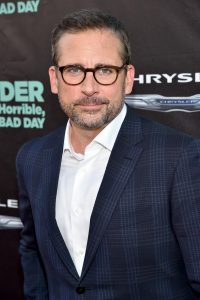 Comedic actor Steve Carell got his start in the early 1990s debuting in the movie Curly Sue. On television, he made his debut on The Dana Carvey Show where he also worked as a writer. He next appeared on Saturday Night Live. After this, he starred on the short-lived sitcom Over the Top. He then appeared on the late-night talk show The Daily Show as a correspondent, appearing regularly from 1999 to 2005. During this period, he also played Evan Baxter in the comedy film Bruce Almighty and Brick Tamland in Anchorman: The Legend of Ron Burgundy. In 2005, he came to wider prominence for his lead role in the movie The 40-Year-Old Virgin.
It was also the same year that he started playing Michael Scott on the acclaimed sitcom The Office, starring on the show from 2005 to 2011. While on the show, he also pursued his film career actively with roles in Little Miss Sunshine, Evan Almighty, Dan in Real Life, Get Smart, Date Night, and Crazy, Stupid, Love. He went on to star in the movies The Incredible Burt Wonderstone and Foxcatcher. He is also the voice of Gru in the Despicable Me films. His latest roles on the big screen were in 2017's Battle of the Sexes and Last Flag Flying.
The 56-year-old actor makes an effort to stick to a clean diet but he's not one to deprive himself of food. He doesn't really follow any special diet for losing weight. He just tries his best to eat as healthily as possible with lean proteins, whole grains, and fruits and vegetables. In an interview, he got candid about his eating habits. When asked what you can always find in his fridge, he said: "Soy milk, because my daughter has a severe milk allergy; Diet Coke; and strawberries." As for his guilty pleasures, he loves a great burger and he always craves his mom's lasagna.