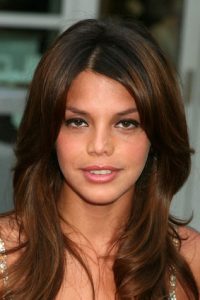 Hollywood actress Vanessa Ferlito first appeared as Tina Francesco in the HBO series The Sopranos. She next made her cinematic debut in the 2002 film On Line. Shortly after, she had a role in the film 25th Hour. At the same time, she had guest roles in Third Watch and Law & Order, as well as starred in the TV movie Undefeated. Her first notable role on television was as Claudia Hernandez in 24.
She next played the role of Louise in the film Spider-Man 2. She later had supporting roles in the movies The Tollbooth, Man of the House, Shadowboxer, and Gridiron Gang. From 2004 to 2006, Ferlito became known for her role as Aiden Burn in CSI: NY. She was then cast for the part of Arlene "Butterfly" in Quentin Tarantino's Death Proof.
She next had performances in the films Descent, Nothing like the Holidays, Madea Goes to Jail and Julie & Julia. In the 2010s, she had supporting parts in such movies as Wall Street: Money Never Sleeps and Stand Up Guys. The actress then starred as Catherine "Charlie" DeMarco in the USA Network series Graceland. As of 2016, she plays the role of Tammy Gregorio in NCIS: New Orleans. Her latest film role was in 2015's All Mistakes Buried.
To maintain her great figure, Vanessa Ferlito eats right and exercises. When it comes to her workout routine, she keeps it basic. For starters, she considers walking, which she does a lot, as one of her main exercises. Apart from walking, she also rides her bike and hikes to stay active. She hits the gym whenever she has free time, but mostly, her fitness plan is not something rigidly planned. She just makes sure she stays strong with physical activities that she can normally incorporate into her lifestyle, such as walking and running.