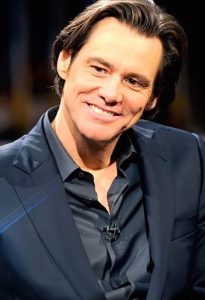 Hollywood actor and comedian Jim Carrey got his start in the 1980s. He first gained recognition in the '90s after appearing on the sketch comedy show In Living Color. After this, he landed the titular character in 1994's Ace Ventura: Pet Detective, which also marked his first successful film. That same year, he starred in other hit movies, such as Dumb and Dumber and The Mask. He later played Edward Nygma / Riddler in the film Batman Forever, reprised his role in Ace Ventura: When Nature Calls and starred in The Cable Guy.
He was then acclaimed for his performance as Truman Burbank in the film The Truman Show in 1998. He next portrayed Andy Kaufman in the film Man on the Moon. In the 2000s, his success as a comedian continued with lead performances in Me, Myself & Irene, How the Grinch Stole Christmas, Bruce Almighty, Fun with Dick and Jane, and Yes Man. He also starred in some dramatic films, including The Majestic and Eternal Sunshine of the Spotless Mind. In the 2010s, he starred in the movies Mr. Popper's Penguins, The Incredible Burt Wonderstone, Kick-Ass 2, Dumb and Dumber To, and The Bad Batch. His recent work on the big screen was in the drama feature Dark Crimes.
The actor is already in his late 50s but we can all agree that he remains in his top shape. He generally takes care of his body and overall well-being, that's for sure. For his role in the film The Incredible Burt Wonderstone, the actor also transformed his physique, which entailed some serious changes in his diet plan.
Talking about it, he said: "It's not a natural place to live in that kind of shape. It looks great. It's fantastic and gets a lot of attention, but you have to eat, like, anti-matter to stay in that kind of shape."
In a tweet, he also gushed about his clean diet plan. "Feeling relaxed content and even blissfull,like i just got up from a good nap. Protein veg legumes rice fruit nuts water contain all we need 2b healthy happy n sharp minded. I believe ths diet more healing thn drugs," he said.