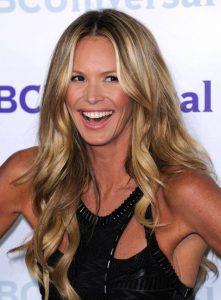 Aussie model and actress Elle Macpherson achieved modeling success during the 1980s. During this period, she had mainstream appearances on such magazines as Elle, Harper's Bazaar, Marie Claire, British and Australian Vogue, among others. She also graced the cover of several famous publications as well. During this period, she also started modeling for the French skincare brand Biotherm.
She then gained wider prominence after getting featured on Sports Illustrated Swimsuit Issue where she was featured on the cover five times. As a fashion model, she's worked on the runway for such designers like Louis Vuitton, Ralph Lauren, Azzedine Alaïa, Donna Karan, and Christian Dior, to name a few. In the 1990s, she ventured into acting, debuting in the film Alice. In 1994, she had a notable performance in the movie Sirens.
She then appeared nude on Playboy magazine. She went on to have performances in the films If Lucy Fell, Jane Eyre, The Mirror Has Two Faces, and played Julie Madison in Batman & Robin. From 1999 to 2000, she played Janine LaCroix on the sitcom Friends. In the 2010s, she mostly worked on reality shows — she hosted Britain's Next Top Model and Fashion Star.
The 55-year-old model stays in shape by sticking to a clean diet plan. In the morning, she starts her day by drinking warm water with lemon, no coffee for her. For an energy boost, she adds cayenne pepper into her lemon water instead. She then makes a green smoothie as she's recently found juicing to be beneficial.
"Although I prefer a raw vegan diet, if I'm craving something hot, I'll have a poached egg on sunflower or wheat-free dark rye bread, raw oatmeal with agave or a raw chia pudding soaked in almond milk," said Macpherson. For lunch, she usually has "a big raw salad of kale, spinach, sprouts, cucumber, cabbage, avocado, coriander, and pumpkin and sunflower seeds" drenched in premium olive oil. She also likes to eat sardines for its omega-3 fatty acids.