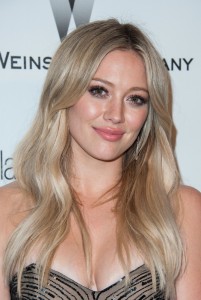 American actress and singer Hilary Duff started her acting career at an early age, but it was in Lizzie McGuire that brought her international stardom. With her new-found fame as a teen idol, she easily expanded her career onto the big screen with starring performances in Agent Cody Banks, The Lizzie McGuire Movie, Cheaper by the Dozen, A Cinderella Story, and Raise Your Voice. She also achieved success as a recording artist after the release of her second album Metamorphosis in 2003. In the 2010s, she became less active due to her marriage and motherhood with only a few projects on film and recurring and guest appearances on television, though starting this year, she began playing a main role on the television series Younger. She also recently released her fifth album Breathe In. Breathe Out., as well as played a starring role in the indie movie Flock of Dudes.
Former Disney star is now a full-pledged grown-up with a child of her own. Despite taking it slow to focus on her new life, Hilary is still in the loop of stardom. 2015 is certainly her comeback with a new album and a new show. With all the changes in her life and career, it's amazing how she was able to maintain her slim physique and how she was able to stay fit and healthy despite all the pressures.
After giving birth in 2012, Hilary became more health conscious yet relaxed about it at the same. When she was younger, she would feel guilty about eating something unhealthy. Now, she understands that it's just about being balanced about her food options. She said: "I feel most healthy when I enjoy small bites of the things I love." She added: "I used to feel bad about eating French fries — I'd think that I had blown my diet. But you have to think, That's OK, I'll eat healthier tomorrow."
Thus, she doesn't entirely stop herself from eating the foods she like, she just puts limit on how often she could have them. She revealed that she was more ravenous during pregnancy that her consumption of french fries, chicken fingers, pizza, and pasta took a toll on her body after giving birth. However, despite the pressure of gaining her body back, she understood that it took time, and for her it took several months, and that's okay. She made adjustments in her diet and made sure she didn't consume too many carbs in a day. If she'd have carbs for breakfast, she'd turn to lean protein for lunch. That way, her body wouldn't accumulate lots of carbs. This strategy was great as she wasn't deprived of the foods she loves and she was able to lose weight as well.