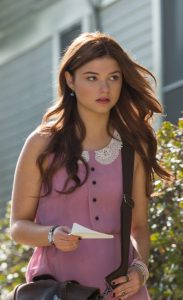 Hollywood star Stefanie Scott debuted as Young Sarah in an episode of Chuck back in 2008. That same year, she made her big screen debut in the movie Beethoven's Big Break. She next had a one-time role on the TV series The New Adventures of Old Christine. In 2010, she played Dana Tressler in the movie Flipped, then played Young Emma in the romantic comedy film No Strings Attached. She achieved her breakthrough on television after landing the role of Lexi Reed on the Disney Channel sitcom A.N.T. Farm. She then starred on the show from 2011-2014. Of course, this gained her mainstream recognition, particularly among teens.
While on the program, she also starred on the TV movie Frenemies, as well as made one-episode roles on Law & Order: Special Victims Unit and Jessie. After A.N.T. Farm ended, she focused on her film career. Shortly after, she got the role of Quinn Brenner in the horror film Insidious: Chapter 3. This was released in 2015, along with her other films — Caught and Jem and the Holograms. She next played a supporting character in the movie I.T. In 2017, she had performances in the movies 1 Mile to You and Small Town Crime. This year, she had roles in the feature films First Light, Beautiful Boy, Spare Room, and Good Girls Get High.
Apart from her clean diet plan, the actress keeps her body fit and healthy by sticking to an active lifestyle. Despite her young age, she understands the importance of exercising, not only to maintain her slim figure but for overall strength as well. With this, the young star hits the gym on a regular basis. She works out whenever she can, switching her workout routine alternately to avoid getting bored. Her fitness regimen includes cardio, circuit training, and even meditative exercises such as yoga. She also loves to run and engage in outdoor activities with her friends.