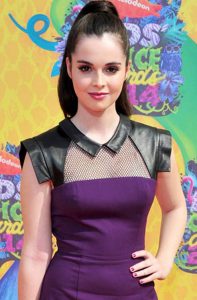 Hollywood star Vanessa Marano had her acting beginnings when she debuted as Hanna Malone on the television series Without a Trace. She next made her film debut in Finding Nemo. She later made guest appearances on the shows Grounded for Life and Six Feet Under. At the same time, she had a notable role on the TV film The Brooke Ellison Story. In 2005, she also played a recurring character as Franchesca on the show The Comeback. She later played April Nardini, a recurring character on Gilmore Girls.
After this, she starred in a couple more TV films and guest-starred on Miss Guided, Ghost Whisperer, and The Closer. From 2008 to 2010, she starred as Eden Baldwin on the soap opera The Young and the Restless, as well as played recurring roles Haley McGuire on Trust Me and Rebecca Mitchell on Dexter. In the 2010s, she joined the main cast of the short-lived series Scoundrels as Hope West. She later gained further success on television after getting the role of Bay Kennish on the show Switched at Birth, which she played from 2011 to 2017. She's also had roles in the films Dear Lemon Lima, The Secret Lives of Dorks, Senior Project, and Daphne & Velma.
Fitness is part of the actress' daily life. "I trick myself into working out by mixing things up: hiking, yoga, kickboxing, or a few of these awesome moves you can do at home," she said in an interview. Though she admits that she's not a huge fan of working out, she stays active by doing lots of walking. "I'm not a big fan of working out, but walking is awesome. You can do it anywhere, multiple times a day and it doesn't take too long. I walk my dog, take the stairs instead of the elevator and park far away from a building that I need to go to," she said.