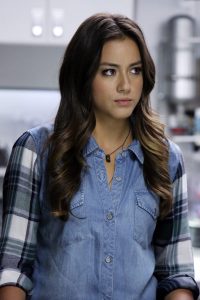 It was in 2010 that actress Chloe Bennet got her start in Hollywood. Her first gig was as a host in the show The Nightlife. She next starred in the pilot Intercept, which never aired. She landed her first recurring role as Hailey in Nashville. She got her break in 2013 after she started playing Daisy "Skye" Johnson / Quake in the TV series Marvel's Agents of S.H.I.E.L.D.
She still plays the said role up to present. At the same time, she starred in the animated movie Tinker Bell and the Legend of the NeverBeast as a voice actress. She also made a guest appearance in an episode of the show The Birthday Boys. She will reprise her role as Daisy Johnson in the upcoming animated film Marvel Rising: Secret Warriors.
In order to play her role in Marvel's Agents of S.H.I.E.L.D., the actress knew she needed to up her physical training to look the part. Not only does she need to look it, she also needs to feel stronger in order to play her role more effectively. "When I found out about how skilled Daisy was, I wanted to make sure that came across as authentically as possible," she said. So, what kind of workout routine did she do? She said:
"So during our hiatus, I put myself through my own training. They said, "Oh, a week before we start filming, you'll do some training," and there was just no way, in my mind, that was going to be enough. So I did two months of rigorous stunt training — kickboxing, boxing, krav maga, jiujutsu — to kind of build up my ability to do what Daisy does effortlessly. I mean, I try and make it look effortless." Her training apparently paid off as she's able to play her character really well even with all the action scenes. It comes naturally for her to kick ass because she's got the physique for it.